A fully accountable, verifiable security solution is a priority in many market sectors
MyTAG's plug and play solutions enable you to build a system tailored to the specific needs of your client, using a single, quick to install solution.
Proof of Presence is simple to use and proves the presence of security guards during each part of their patrol. Secure and Trusted NFC tags positioned along the route are tapped by the guard with their mobile phone, confirming their presence at a specific time. If information is required, or compliance checks need to be carried out, the details appear on their mobile phone and responses are typed in. Guards can also create incident reports including photos, video or text. All the information is available in real-time to control room staff, allowing action to be taken quickly whether it is a security or building maintenance issue.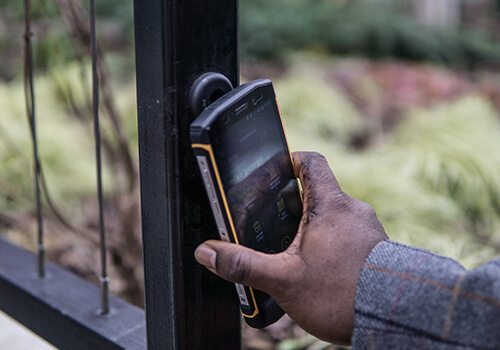 MyTAG Key and Asset management helps improve management of portable assets, such as keys and bicycle. Assets are tagged and checked out with an agreed return time, letting you know the whereabout of each asset. This saves time and money chasing or replacing missing assets, as well as allowing you to demonstrate the professionalism of your processes and systems.
Daily Occurrence Log allows you to record all incidents digitally, with customisable categories and reporting. Analysis provides insight into the highest risks and most common incidents and allows appropriate action to be taken.
Our Deadzone App allows customers to use MyTAG in areas where there is no mobile or Wi-Fi signal. This allows MyTAG technology to be used offline and the information uploaded once returning tom an area with a signal.
To request a demo or for more information contact us today