We are delighted to announce that our patented Proof of Identity solution has been selected by NOCN Job Cards for new smart ID cards for the Construction Plant Competence Scheme (CPCS). The secure ID cards, which cannot be copied or cloned, contain a tag and utilise NFC (Near Field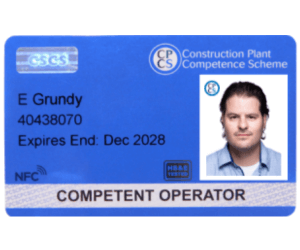 Communication) technology. When the card is tapped on an NFC enabled device or tablet, the cardholder's name, photo, qualifications and training records are automatically displayed, allowing the person's credentials to be instantly verified. The system is simple and easy to use and no App is required.
The new system provides high security and authentication for employers, as if criminals try to copy or alter cards they will not pass the digital verification, immediately alerting the company to potential fraud. This helps ensure compliance with health and safety legislation, ensuring that the correct person with appropriate competence is carrying out the work, and hence reduces the risk of injury. All data is held in the cloud, so large amounts of information can be stored, compared to a standard plastic card.
New qualifications and certifications can be updated without having to renew the card itself and additional functionality such as medical records, training modules, procedural updates and notifications can be added. This reduces plastics usage and carbon footprint, reduces printing costs and enables a paper-free system.
Mike George, Founder and Director MyTAG commented: "MyTAG secure ID Proof of ID is a powerful solution that is bringing value in a range of industries where a person's identity, qualifications or training records need to be proven. It enhances security compared to traditional ID cards, whilst being simple and intuitive to use from any modern mobile phone."
To find out more, please call us today on 01752 657077.