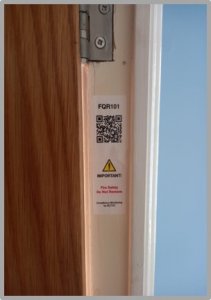 The Fire Safety (England) Regulations 2022 will make it a legal requirement from 23rd January 2023 for responsible persons for all multi-occupied residential buildings in England with storeys over 11 metres in height to:
Undertake quarterly checks of all fire doors (including self-closing devices) in the common parts.
Undertake annual checks of all flat entrance doors (including self-closing devices) that lead onto a building's common parts.
The regulations will also require responsible persons to provide information to residents of all multi-occupied residential buildings with two or more sets of domestic premises (that have common parts) on the importance of fire doors to a building's fire safety.
The minimum requirement is that the inspections be completed by the responsible person, and training is available to ensure that they understand how to carry these out safely and effectively. They must record the inspection, so that evidence of compliance at that point in time is available. Should a problem or any damage be identified, more detailed checks of the doors may need to be completed by a specialist.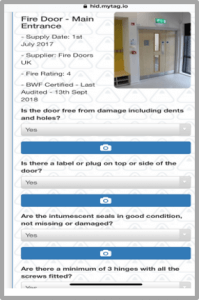 MyTAG's cloud based Fire Safety Compliance system facilitates the carrying out of the fire door checks, with specific questions needing to be answered depending on the type of door and its location. Photos can be added as required, and any problems identified can be automatically escalated. NFC Tags, bar codes or virtual tags are used to record the location and details for each fire door.
The system can be used for multiple buildings, allowing an estate overview of fire door safety compliance, and the required checks are automatically scheduled, with alerts should they become overdue. Details of the testing are immediately available via the MyTAG system, and historical data can be accessed 24/7/365 for reporting or auditing.
The same system can be used to record the details of other fire safety and building safety checks, such as those on fire extinguishers, fire alarms, smoke alarms and sprinkler systems. To find out more about our straightforward to use system, please call us today on 01752 657077 or Contact Us.