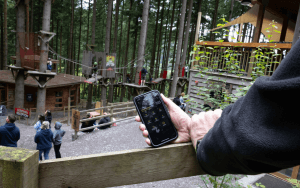 We are delighted to announce that MyTAG has been selected by Zip World as its IT solutions provider for health & safety, statutory compliance and employee engagement, helping to maintain exceptional standards of safety and welfare for its team, customers and supply partners.
Zip World is a Welsh outdoor adventure activity company which employs over 700 people across its seven sites and hotel. It runs the fastest zip line in the world, together with high ropes, the world's first underground golf set in a cave, two roller coasters and a balloon aerostat.
MyTAG's cloud-based solutions use NFC (near field communication) with trusted tags and GPS technology to provide absolute authentication of proof of presence, proof of compliance and proof of identity. Zip World is using MyTAG for scheduling and completion of daily adventure product inspections, safety inspections, routine maintenance, statutory compliance testing, contractor management, branded ID cards and daily occurrence log.
Graham Williams, Facilities Officer Zip World commented "We have implemented MyTAG across all our sites, leveraging massive improvements in effectiveness and efficiency throughout the business. The power of the MyTAG system, backed up by the friendly and comprehensive support of the team, has allowed Zip World to develop a consistent approach to ensuring and monitoring safety and compliance."
To find out more, please call us today on 01752 657077 or Contact Us.