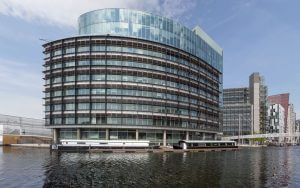 The Point is a striking office building marking the gateway of Paddington basin. Built in 2003, the design is inspired by a ship's prow and follows the curvature of the historic Grand Union Canal directly adjacent.
MyTAG Key and Asset Management, Postroom and Proof of Compliance have been installed at The Point, supporting the FM and Property operations.
MyTAG's unique, cloud-based technology combines NFC, GPS and HID Trusted Tags, which cannot be copied or cloned. This ensures absolute proof of time and location people based events, and allows the tracking and management of portable assets.