MyTAG has launched AirQ, its new air quality monitoring solution. Indoor air quality is a concern to organisations, building managers and building users because air pollution can affect health, comfort, wellbeing and productivity.
MyTAG AirQ is an inexpensive and simple to use system, which utilises sensors to measure PM2.5 (particulate matter measuring <2.5 micrometres in diameter), carbon dioxide, temperature and humidity, allowing indoor air quality to be measured in real time. PM2.5 is widely regarded as the pollutant to pose the greatest hazard to human health, given that its tiny size can penetrate deep into the human lungs and beyond, into the bloodstream.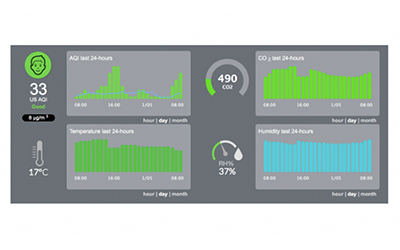 Multiple sensors can be positioned around the building and the MyTAG platform collects the data allowing variations across the building, and with time, to be monitored and analysed. The information can be accessed online or via an App to allow opportunities for improvement to be identified and acted upon.
Mike George, Founder and Director MyTAG commented: "MyTAG AirQ is already in use in major London buildings, allowing air quality to be monitored in real time, and improvements to be implemented where required. This is helping our customers to provide great places to work, by improving wellbeing and providing building users with easy access to air quality information about their working environment."