We are delighted to have launched Safe Desk, to help companies ensure the safety and cleanliness of office spaces as employees return. A small tag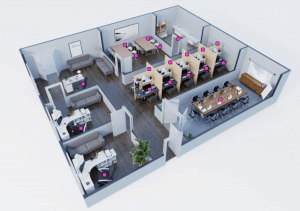 on each desk provides information on whether it is available to use, ensuring social distancing and providing details of when it was last cleaned.
A dashboard at reception, or via a phone based App, shows which desks can be used, and when one is allocated to an employee it is removed from the availability screen. When the employee checks out, the rapid response cleaning team is notified to carry out a thorough desk clean, and on completion the cleaning team updates the status so the area can be reoccupied.
The system also allows daily cleaning routines to inputted, and completion of tasks to be monitored via secure tags placed at key locations in the building, proving that all the requirements have been fulfilled. Anything missed is automatically reported, so that swift action can be taken by building management to resolve the issue.
Mike George, Founder and Director MyTAG commented: "MyTAG Safe Desk helps welcome employees back to the office and reassure them that it is a safe place to work. It is simple and inexpensive to retrofit into any building and the MyTAG App delivers full functionality in areas where WiFi is not available."
To find out more, please call us today on +44 1752 657077.