MyTAG Key Management is helping estate agents throughout the country save time and money, while improving security.
Hunters is the largest independent estate agency chain in the UK with over 100 branches nationwide. Hunters in Camberwell has 6 employees who cover sales, lettings and property management and with over 200 keys in their possession at any one time, key management is an important area.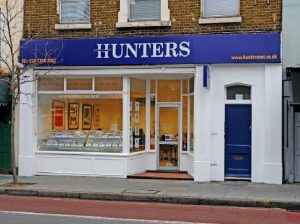 Historically, keys were tagged with a number and managed using a paper based system. Keys were sometimes not signed out, or not signed in when they were returned, and lost keys were a common occurrence. If keys were lost, time had to be spent obtaining the spare keys from the owner or tenant and getting new keys cut, as well as the cost of the replacement keys.
MyTAG Key Management has transformed the process. Keys can now be quickly logged out to a specified person using the cloud based software, saving time and ensuring accurate information about who has the keys is always available. Automated reminders are issued when keys are overdue for return, which has resulted in many apologies when people have forgotten that they still had them!  Historical information is instantly accessible, so it is straightforward to find out which contractors have had specific keys on a given day. Security has also improved, as the Hunter's team can easily see who has each of the logged out keys at any particular time, and account for all the keys in their possession.
Ramona Chowdhury, Property Manager, Hunters Camberwell commented: "MyTAG is fantastic! It has saved us time and money, and made our key management process secure. I manage the maintenance of let properties, and it has made our contractor management a much more efficient process."